© Helen Hen & Zeenie Malik
When asked about their favorite aspect of living in Connecticut, Laila and Mosa Sadat said, "the sea." The couple escaped Afghanistan when the Taliban regained control, and now live peacefully in Branford, steps away from the beach.
Although Laila and Mosa enjoy the serenity of their new home, their journey to Connecticut was not easy. After fleeing Afghanistan, they migrated with 11 other families that are part of Turquoise Mountain, an artisan group, and lived in a refugee camp in Qatar. Laila describes the experience saying, "It was a big garage. There were about 400 containers on top of each other. There were no windows. I was getting depressed." After nearly seven months in the camp, the couple finally arrived in the U.S., to a home with beautiful views and a flourishing garden.
Upon their arrival, they were greeted by an IRIS co-sponsorship group. This volunteer group, Branford Refugee Resettlement/Helping Families Settle (BRR/HFS), was trained by IRIS for nearly a year to help the couple acclimate to life in Connecticut. BRR/HFS welcomed the Sadats with a furnished home, fridge full of groceries, household items, and clothing.
The 50-person team, led by Laura Noe, also helped Laila and Mosa get settled by familiarizing them with local bus routes, finding employment, enrolling them in English lessons, and scheduling healthcare appointments.
Healthcare was especially vital as Laila and Mosa just welcomed Lea, their first child, born a U.S. citizen. Laila reflects on the newfound opportunities for her, "My daughter is in a safe country and will get an education. There are not any safe schools in Afghanistan, especially for girls." BRR/HFS plans to open a college savings fund for Lea.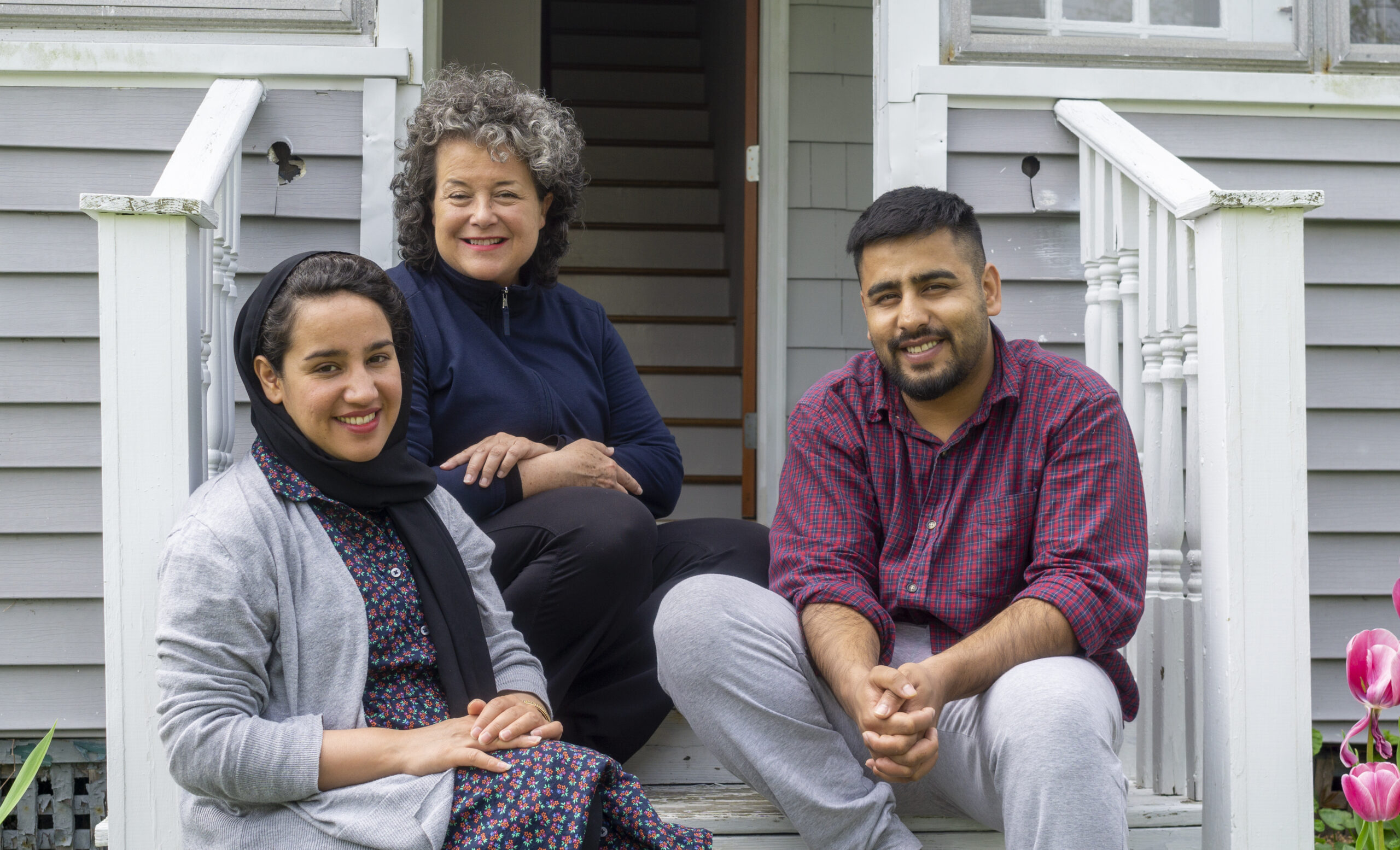 Settling into a new country is still challenging for many refugees, like Laila and Mosa. The biggest hurdle for the couple is their high cost of rent. While BRR/HFS helps offset their rent cost, finding affordable housing has become increasingly difficult. Obtaining a driver's license is another dilemma, since the test is not offered in Dari, their native language.
Despite these difficulties, Laila and Mosa are making progress. Mosa is putting his woodworking skills to use, and has found a job as a contractor. Laila has a Bachelor's degree in Computer Science and is looking for a job where she can work from home. She enjoys painting and has started a garden in their backyard. Until they become self-sufficient, BRR/HFS will continue to support the couple. Laura says,
"As a refugee resettlement co-sponsorship group, I speak for our 50-volunteer team when I say we are thrilled to welcome Laila and Mosa, and baby Lea, to Branford!