From Cultural Companions to a Multicultural Café
Story & Photography © Rachel Peet
What started as a simple pairing of cultural companions seven years ago has now flourished into an interconnected, multicultural family at a heartwarming café and fellowship program in downtown New Haven, called Havenly.
The two women came together through IRIS' Cultural Companion Program in 2015, after both having arrived in the States the year before. Caterina Passoni arrived from Italy to begin her studies at Yale University in the Fall and Nieda Abbas arrived with her family in the Summer. Nieda worked as an accomplished chef and entrepreneur in her home country of Iraq, and then in Syria before immigrating to the U.S. 
After Caterina and Nieda's daughter were paired through IRIS, it was more than the city that became a haven for them. Caterina, Nieda, and the rest of the Abbas family connected over their shared meals, cross-cultural conversations, and newfound memories together.
"I think that was one of the reasons why I felt at home with Nieda — because I grew up in Italy my whole life, and then I came here for a few years. It was one of the few places I'd go where they were all eating together, and that was the same kind of spirit I grew up with," Caterina reflected.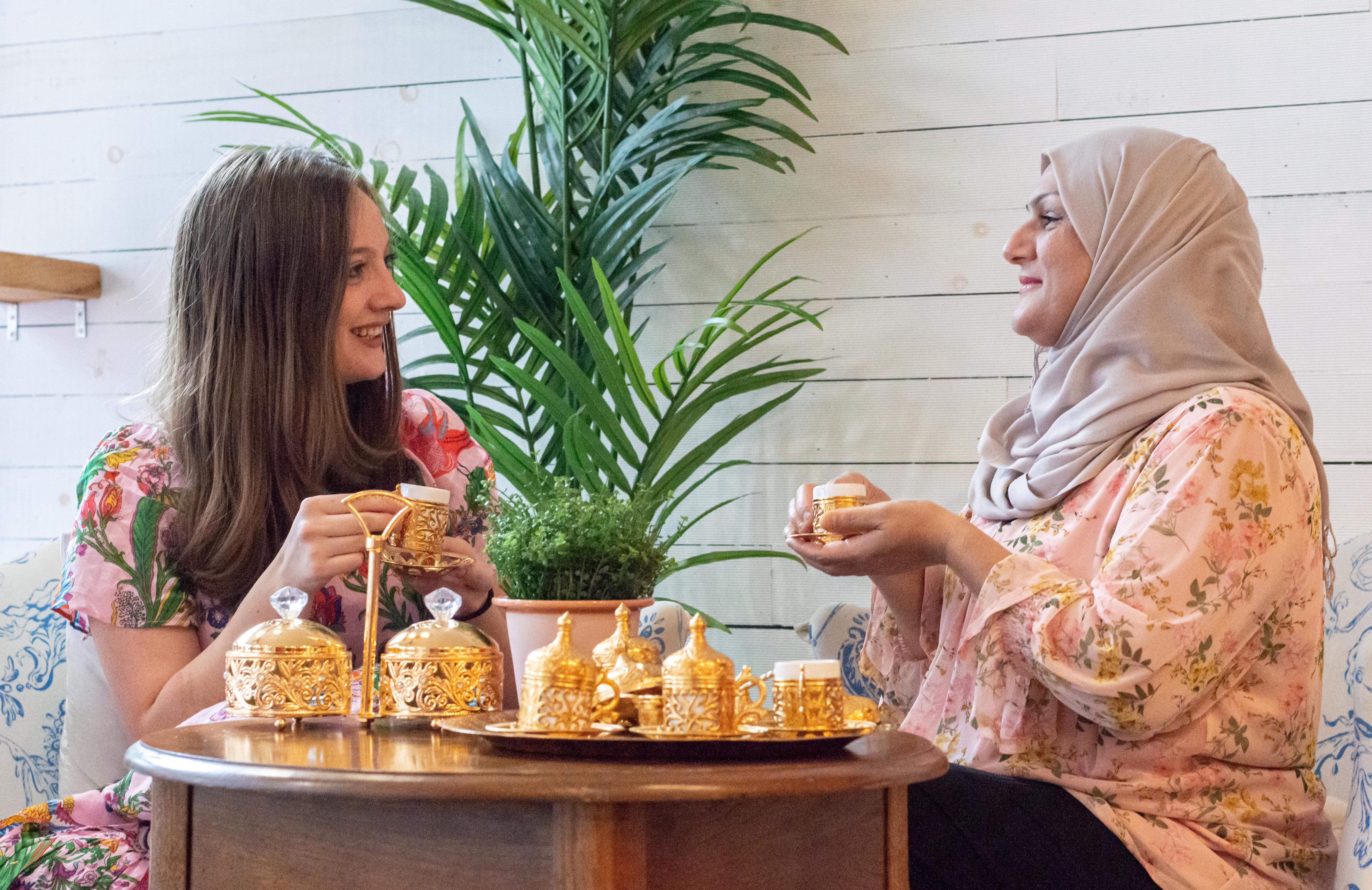 A couple of years filled with tutoring sessions, family meals, and adventurous outings between the Abbas family and Caterina spurred the grand idea of selling Nieda's delicious meals to their first customer on the Yale campus. The satisfied review led Caterina and Nieda to sell many of her homemade recipes from the Middle East all throughout and beyond the Yale campus. Word of mouth wasn't the only way in which Caterina and Nieda's collaborative start-up grew. It further developed through the "heavenly" aromas and heartfelt approach that came on the side of each meal or baked good. In the spring of 2018, Nieda and Caterina launched Havenly. 
The few years it took for the two, new business women to start Havenly as an official business were brief, but also challenging. Nieda opened up and acknowledged, "I got stuck in the fear for a while. That's one of the most important things to remember. If you don't get out of that fear, you can't move forward." 
One of their greatest obstacles was the outbreak of the COVID-19 pandemic. At this point in their long journey, both Nieda and Caterina were equipped to surpass any obstacle. With their resilience they made sure their brand new café doors remained open, especially for those in greatest need throughout New Haven. During the first six months of the pandemic, they provided food relief to those in need. Nieda emphasized, "It was a hard time, and we felt their pain. I think because of what we did, God opened doors for us." 
The café stands out so uniquely because of their integrative and inspiring atmosphere. The dynamic duo has welcomed dozens of other refugee and immigrant women.  All new hires grow into the diverse, Havenly family through their six-month fellowship program that has drastically evolved since their first fellowship. They are in their fifth fellowship program now, which includes education around individual rights, fairly paid work hours, yoga, art therapy, group outings, and more. The integration of deeply varied cultures, mindsets, and experiences at one, single café truly lives up to the Havenly name. After all, Nieda states that "Havenly comes from two things — my own journey and the situation that refugee women are facing in general, in the United States." It is the ultimate haven endlessly cycling through gratitude, empowerment, and belongingness across borders and foreign flavors. 
For more, visit havenlynhv.org